Table of Contents
Blue Springs MO Reliable AC repair Company, or what we like to say Handy as a pocket on a Shirt, LLC, is a family-owned and operated business that has been providing quality air conditioning and heating services in Blue Springs MO in Jackson County.
Bill Ledbetter the owner is very dedicated to providing its customers with top-of-the-line equipment and services and personal attention. So whether you need residential or commercial air conditioning service, Plumb Perfection, LLC has the expertise and resources to get the job done right.
The summer months here in Blue Springs, MO, can be very Hot. If you live on one of the lakes like Lakewood, Lotawana, Lake Tapawingo, or Raintree Lake, you can jump into the water to cool off but to get a good night's sleep; you need a reliable cooling system. So make sure to call us and ask about our outstanding AC Servicing.
If you are looking for an experienced cooling repairman/person, you won't be disappointed if you call us. We know how expensive AC repair can be. We know because we worked for the big person at some of these companies you have heard of.
Bill decided he had enough and wanted to help people pay a fair price and repair their systems correctly. Living in Blue Springs, we love helping local residents to get their systems fixed at an affordable price. This is why we started Plumb Perfection, LLC.
Quality Air Solution To Breathe Clean Air In Blue Springs.
Missouri is known for its high levels of heat and humidity, which create air quality problems for our community's residents, even in their houses. But you should be able to breathe comfortably in your whole home.
Our air quality specialists in Blue Springs, Missouri, have expertise in identifying and supplying various products and services related to air quality. For example, using air purifiers and air purification systems, we eliminate harmful contaminants from the air in your home so that you don't have to breathe them at the risk of developing any ill side effects.
Call our air quality specialists if you detect dust or airborne dander indoors. Have someone with severe allergies in your house? Then, breathe easy, fresh air in no time! We have cooling systems that can help purify that air letting you breathe deeply.
Getting Your AC Repaired?
Make sure to discuss air quality issues with your technician so they can help solve those issues. Getting higher air quality can also be a unique selling feature of your home.
Choose Plumb Perfection, LLC of Blue Springs! We serve all of Jackson County, but our business is based in Blue Springs, MO. We serve all of Blue Spring's zip codes 64013, 64014, 64015, 64029, 64057, and 64064. Lake Lotawana in the 64086 zip code, we have you covered as well when it comes to AC repair.
Plumb Perfection, LLC of Blue Springs has a broader array of services than some of the other HVAC companies. We do everything we can to ensure that you get an efficient outcome and deliver exceptional service. In fact, we ensure that our clients will receive a satisfactory experience and give you the peace of mind you deserve. Regardless, our iron-clad guarantees show how confident we are in our capabilities.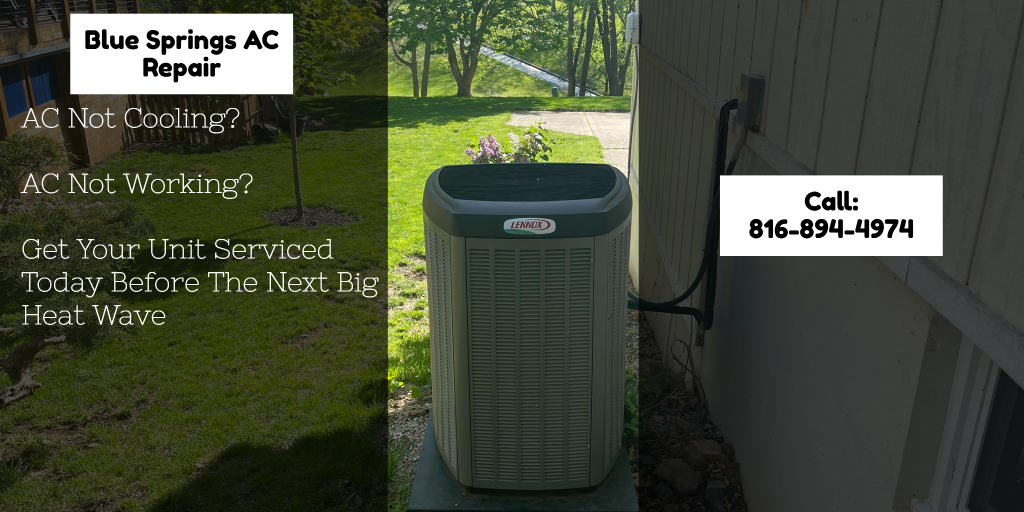 Plumb Perfection, LLC can provide prompt, reliable services if your air conditioner or furnace needs servicing or repairs. Call a professional servicing staff member to discuss your needs and schedule a service appointment. We aspire to deliver a level of service that exceeds your expectations!
Thank You, Blue Springs, for such a great family environment! We look forward to helping you with your ac services needs. Please call us for ac tuneup, ac repair, ductless ac units, or whatever your cooling needs are.
Fun temperature information for Blue Springs, MO; if you are moving here, be prepared for a warm summer.

Above chart from the Blue Springs Missouri page on Wikipedia
We offer AC repair service on the majority of air conditioning units.
If your air conditioning unit is not cooling or running, don't try to fix it yourself. Instead, call our team of AC repair experts, and we'll take care of everything for you. We offer AC repair service on the majority of most air conditioning units, so we know exactly what needs to be done to get them up and running again.
We also have a wide range of replacement parts and accessories available so that you can keep your home cool no matter what. So give us a call today and let us help you keep your family comfortable!
What are the major components of a home air conditioning system?
The major components are the compressor, evaporator, and condenser.
Compressor – Some technicians call this the heart of the AC system. Unfortunately, it is one of the most expensive parts of the AC system. Our technicians will discuss your options with you from simply fixing the unit to replacing the whole unit.
If you want to keep your compressor humming along having regular checkups on the AC unit is critical. Low refrigerant levels is one of the number one causes of a compressor failing. Low refrigerant levels make the compressor pump harder which leads to failure.
Evaporator – This is an expensive component of the AC unit. Putting a new evaporator in an AC unit that is over 8 years old is like putting a bandaid on a major cut. If the air coming from your vents is warm, your air conditioner never shuts off, or you hear a banging noise these all can be signs of a bad evaporator.
Condenser – This being another major part of the AC unit can be expensive to replace. The compressor you guessed it compresses the refrigerant gas. Since the refrigerant is under high pressure and high temp the heat will start dissipating into the air. The refrigerant gas flows into the condenser nest.
The condenser coils are typically made of copper and have a series of fans to remove the heat as the gas travels through the coils cooling the gas back to a liquid state.
What refrigerant is used in AC units now? Is it still freon?
Freon is a chemical refrigerant produced originally by DuPont. It has been used in air conditioners, refrigerators, and other appliances since the 1930s. Because it is a chlorofluorocarbon (CFC), it has the potential to deplete the ozone layer. For years freon was what HVAC technicians used as the refrigerant in AC systems.
Section 608 of the Clean Air Act has banned the import or production of HCFC's (Chlorofluorocarbons (CFCs), Halons, and Hydrochlorofluorocarbons (HCFCs)) starting January 1, 2020. If your system uses this old freon then it is most likely time for you to upgrade your AC unit. Please talk with your technician about other possible gas substitutes.
Warning Signs of needed repair ON YOUR COOLING SYSTEM
When you start to notice signs that your air conditioner needs repair, don't wait. The sooner you take care of the issue, the better off you will be. Have an inspection performed on your home cooling system.
Here are six warning signs that your AC needs attention:
1. Your AC is not cooling your home as effectively as it used to. This can be a sign of a leak or maybe multiple leaks in your system. Having a properly tuned AC system will help lower the electrical bill this summer.
2. Your unit outside the home looks dirty or has other plants, insects, or animal grime in the unit. Dirty or clogged condenser coils can drastically affect your AC unit's performance. Having your unit regularly cleaned by a qualified technician is important.
3. You are noticing that your unit is louder than usual. Having your maintenance performed in the spring can catch any potentially costly issues.
4. You are noticing that it is harder to get a good night's sleep in your bedroom because of the noise and heat coming from your air conditioner.
5. The air coming out of vents is warm. Serval issues can cause this. Make sure to turn off your AC unit. Leaving it running can make other systems start failing increasing your AC repair bill.
If you notice any of these signs, call a reputable HVAC company to come out and check your system. If your AC is in need of repair, it could make all the difference in the world. Contact us now.
We serve all areas surrounding Blue Springs, including Lee's Summit, Grain Valley, Lake Lotawana, Lake Tapawingo, Lakewood, and all areas between. Zipcodes include but are not limited to 64015, 64086, 64002, 64063, 64064, 64081, 64082, 64083, 64086, 64134, 64149, 64029, 64013, 64014, 64029, 64057. Give us a call today!
It is important to have your AC unit serviced and repaired by a professional. Not only will this keep you cool during the summer months, but it will also help extend your unit's life. If you are in the Blue Springs area and need AC repair, be sure to give us a call!
Call To Schedule an Appointment