Quality plumbers in the Blue Springs, MO area
Finding a quality plumber near you can take time and effort. Look no further Plumb Perfection is here to help. We take pride in doing the job the right way the first time. We use quality materials and stand behind our Plumbing Workmanship.
Blue Springs, MO Area
Get direction
Drain Cleaning
Clogged drains and pipes can cause serious harm to your home or business
Plumbing install & Repair
Faucets, dishwashers, bathtubs, toilets, water heaters, outdoor faucets.
Commercial Plumbing
We love helping local businesses with their plumbing issues.
Who we are
We are a locally owned Plumbing Service Company in Blue Springs, MO. Bill is a Master Plumber and has worked for local plumbing companies and decided to take the leap and start his own plumbing company in the Blue Springs, MO area.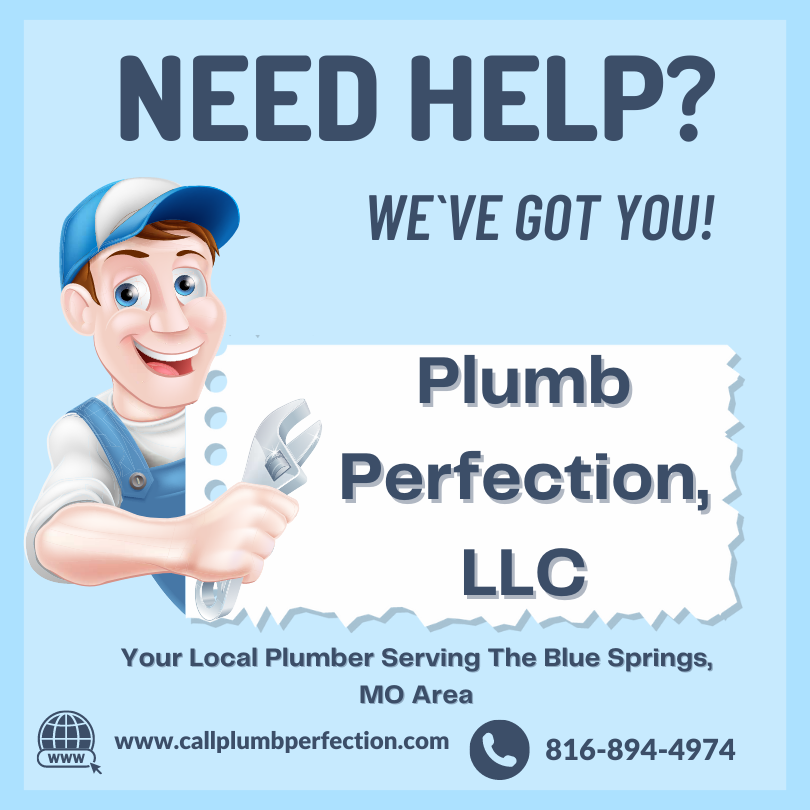 We envision a future where our locally owned plumbing service company in Blue Springs, MO., is the go-to resource for all plumbing needs when someone needs a fair and honest plumber to help handle their issue.
Our mission is to provide top-quality plumbing services and solutions to customers in Blue Springs and its surrounding areas. We will strive to offer outstanding customer service and ensure that each job is done with precision and excellence.
Plumber
Drain cleaning
Faucet Repair
Garbage disposal installation
Outdoor plumbing system repair
Plumbing leak detection
Plumbing leak repair
Plumbing pipe repair
Shower installation
Shower repair
Sump pump repair
Toilet installation
Toilet repair
Reverse Osmosis Water System
Water Pumps
Water Lines
Water Filtration System
Water Heater Replacement
All Drain Services
Burst Pipe
Clogged Drains
Drain Lines
Electric Heat
Faucet Installation
Faucet Replacement
Toilet Repair
Gas And Electric Water Heaters
Gas Lines
Gas Pipes
Heating & Cooling
Home Drains
Hot Water Heaters
Hydro-Jetting
Kitchen Sink
Leak Detection
Leaking Faucet
Leaking Pipes
Leaky Pipes
Major Plumbing
Plumbing Emergency
Plumbing Equipment
Plumbing Fix
Plumbing Repairs
Plumbing Systems
Plumbing Work
Residential Plumbing
Sewer Line Clean
Sink Drains
Sump Pump Installation
Sump Pump Maintenance
Sump Pump Repair
Tank Water Heaters
Tankless Water Heaters
Toilet Install
Water Heater Maintenance
Water Heater Installation