Sewer Line repair near me
One of the most overlooked parts of the home is the sewer line. While we often don't think of our sewer lines as requiring frequent maintenance, they can suddenly develop problems that could require extensive repair. When that happens, you must ensure you know where to turn. Sewer line repair in Blue Springs, MO, and Lee's Summit area is an important task that should be done by a professional.
Plum Perfection, LLC is here to help with all your plumbing needs. Water line repair and sewer line repair keeping your home running smoothly.
Sewer pipes are made to handle a lot of dirty work, but over time they can get cracked or separate, causing sewage to back up into the home. Sewer pipes may also become clogged with tree roots. Sewage line repair in Blue Springs can solve the problem and prevent future sewage backups. Root inhibitor products can save you from having to pay for mechanical drain cleaning services and can even extend the life of your sewer lines.
How do I find the main drain line in my house?
It is usually found in the basement, crawl space, or garage. You may need to find a four-inch-diameter pipe with a thumb cap on top that has a square or notch knob. Note that some houses have an indoor sewer cleanout, while others are found outdoors.
Sewer Line Repair For Clay Pipes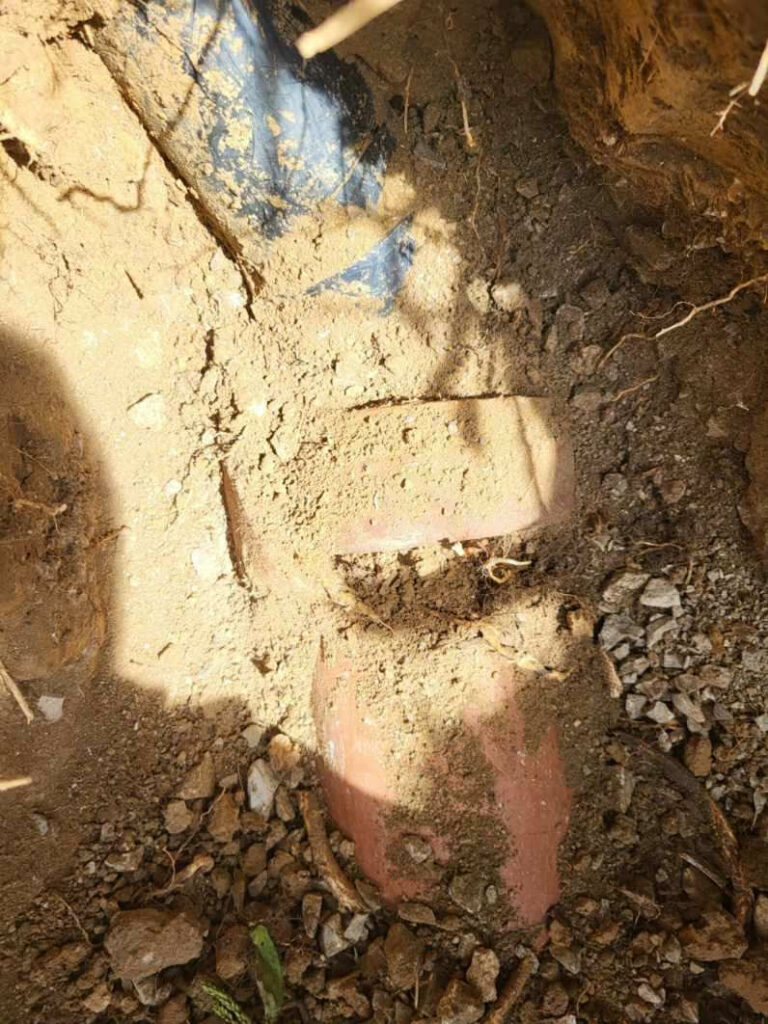 Clay sewer lines are usually in homes built before 1970. In the picture above, this Blue Springs, MO home had a clay connection where the root weaseled its way in and caused the homeowner havoc. The pipe wasn't even cracked!
Plumb Perfection, LLC came in and repaired the sewer line. We replaced it with a PVC sewer line that should last the homeowner their lifetime with no issues.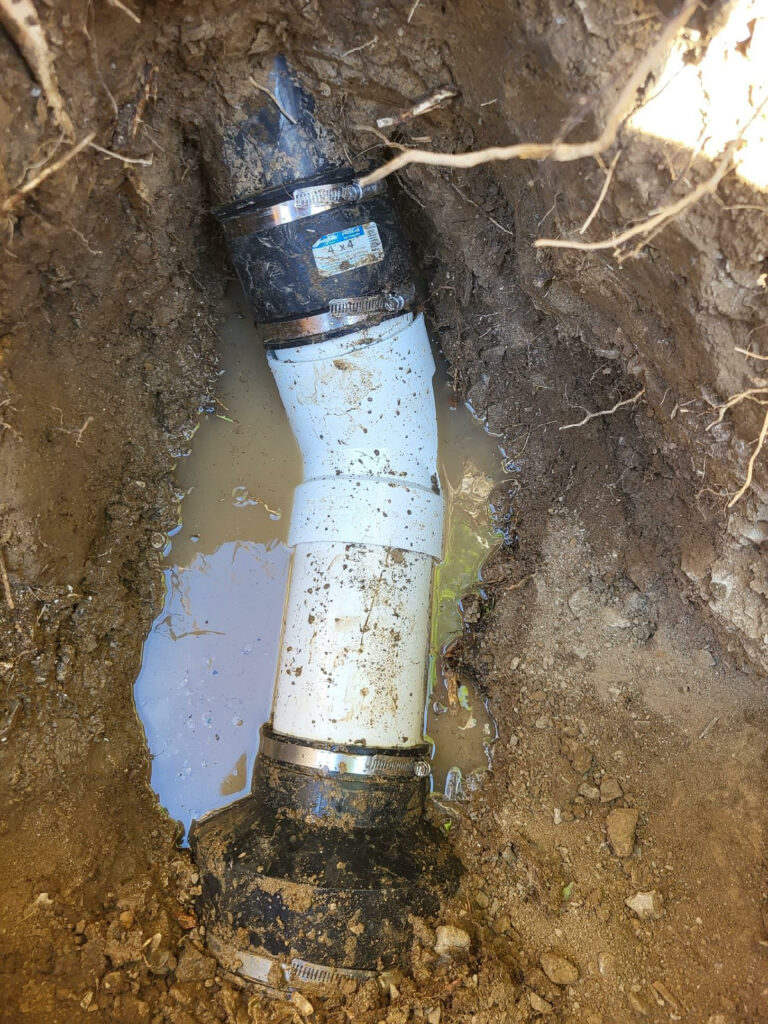 If your sewer line is made of clay, you'll need to consider getting it replaced at some point. However, replacing it is not always the best option. Even if it's not cracked or in the process of breaking, the repairs may not be enough to prevent significant issues. To avoid a more costly and hassle-ridden situation, you should consider giving us a call before paying some amateur plumber big dollars. This way, you can prevent multiple excavations around your home, avoid additional costs, and have the job completed correctly the first time.
How deep is the main sewer line?
They can be as little as 12 to 30 inches deep or as much as 6 feet deep. The thickness can also depend on where you live. Here in KC, we tend to find them deeper due to our hard freezes.
Who is responsible for the sewer line outside the home? Is it me, the homeowner?
The property owner is responsible for the sewers and lateral drains connected to the public network in Lee's Summit, Mo, and Blue Springs, MO area. Did you know that you can usually get buried utility line coverage through your home insurance?
Can I claim blocked drains on house insurance?
Most likely, NO! Unforatelly, most people call in wanting the least expensive homeowner's insurance possible. For a few dollars more, you could have what is called water backup coverage and buried utility line coverage. These coverages should cover the repair based on what the claims adjuster finds.
Want more detailed information on sewer line pipe for Missouri? MO Sewer Line
In conclusion, sewer line repair is important to maintaining a home. Homeowners should know the signs of a sewer line issue and when to call a professional Plumber in Blue Springs, MO, for help. By being proactive and scheduling regular maintenance, homeowners can avoid major repairs and keep their sewer lines in good working order.
We serve all areas surrounding Blue Springs, including Lee's Summit, Grain Valley, Lake Lotawana, Lake Tapawingo, Lakewood, and all areas between. Zipcodes include but are not limited to 64015, 64086, 64002, 64063, 64064, 64081, 64082, 64083, 64086, 64134, 64149, 64029, 64013, 64014, 64029, 64057. Jackson County, Missouri. Give us a call today! We know how cold winters can get in our town.
1 Major tip is to use Bio-Clean on your drains.
Bio-clean is a natural product that uses enzymes to break down waste into harmless substances. It uses the same principles bacteria use to break down food waste and clean your drains. The result is cleaner pipes and fewer odors. The product is safe for all pipes and contains no toxic chemicals.
BIO-CLEAN works to clear clogs within a day of use. However, if you have a stubborn clog, you may need to call in a plumber. However, with regular maintenance treatments, you can prevent new clogs. The cleaning process takes between two to four weeks, but almost everyone can see results within a day.
Bio-Clean is a natural product that contains enzymes and bacteria that are proven to kill harmful bacteria in drains and sewers. It works by feeding on the organic wastes in your pipes. It breaks down organic waste and leaves harmless byproducts like water, carbon dioxide, and mineral ash.